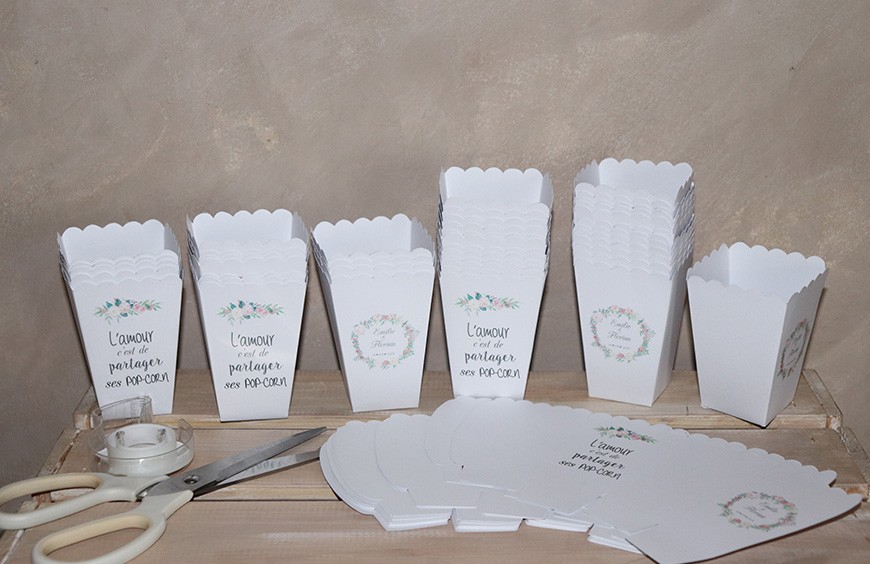 Do it yourself - popcorn boxes
Posted by  Feb 20, 2020  Blog  0 Comments
If you opted for a Popcorn Bar at your wedding (or any other event), you will necessarily need small boxes! And what could be better than personalizing and creating them yourself ...
Here is a DIY that will allow you to make small Pop Corn boxes very easily (but with a lot of patience ...).
The material necessary to make these boxes:
- Thick paper
- Scissors
- Double-sided tape (or glue)
Here is how to do it:
1 - Download the PNG here and customize it with your logo, a quote ...
2 - Print it on thick paper (here, 220 g)
3 - Cut out the outline
4 - Fold the tabs (the bottom 4 and the side one), as well as the 4 sides of the box
5 - Put a small piece of tape on the 1st, 2nd and 4th tab, as well as on the side. Be careful to put the tape on the bottom of the box. This is where you can use glue
6 - Close the box, starting by sticking the tab aside. Then by closing the other 4