An art profession requiring creativity and know-how
For more than sixteen years, our workshop, a pioneer in the field of preserved flowers, has projected its know-how and creativity into the world of marriage creating with meticulousness and love bouquets, wreaths, buttonholes, jewelry, decorations ...
Original creations in natural flowers, all in delicacy and freshness, which resist over time to the delight of thousands of brides. 
The eleven reasons to choose our creations in dried or preserved flowers for your wedding
1 - To enjoy your flowers and flowery accessories all day of your wedding without the risk of seeing them wither even in summer
2 - To have a custom creation that you have in mind made without risking a bad surprise on your wedding day
3 - To easily organize the delivery of your flowers and floral accessories if you are getting married away from home or abroad
4 - To enjoy your bouquet and your accessories if your celebration takes place over several days or even several months
5 - To stand out with unusual and unique floral arrangements impossible to achieve in fresh flowers
6 - To spoil the people who are dear to you by offering them original and memorable accessories (bracelets, brooches, buttonholes, barrettes, etc.)
7 - To avoid last minute stress by preparing and setting up your floral decoration in advance
8 - To be able to keep your bridal bouquet and floral accessories as unforgettable memories of this wonderful day
9 - To reduce the environmental impact of your event by opting for sustainable flowers with a lower carbon footprint
10 - To favor Made in France and the authentic know-how of certified craftswomen
11 - To live your wedding and its preparations as a unique and magical personal experience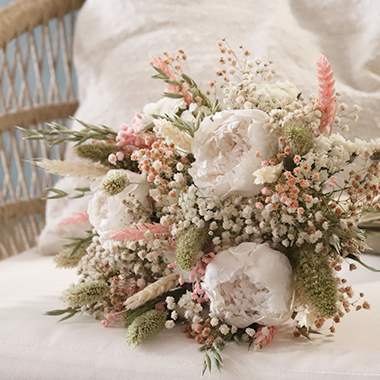 Express your style with our custom creations
Our entire collection is 100 % customizable . You can add your unique touch to each of our creations by changing the colors, size, flowers… or by asking us to coordinate them with other accessories. Contact us, we are committed to supporting you to make your ceremony a personal event in your image.
We can also design custom creations together, according to your ideas and inspirations: it is with joy that we will help you express your style to achieve unique accessories reflecting your personality.
«There is no chance, there are only great encounters. We would be happy to accompany you in your preparations to create together the unique tone of your day. We wish everyone to have an unforgettable experience. »
Emilie and Sandy
Please note that custom items require a longer lead time. It is therefore preferable to contact us 2/3 months before the date of your wedding, especially if it takes place during the summer months. All our creations are meticulously made by hand, to order, and our order book fills up very quickly from April to September. We may therefore be required to refuse custom orders during periods of intense activity, and we apologize in advance.