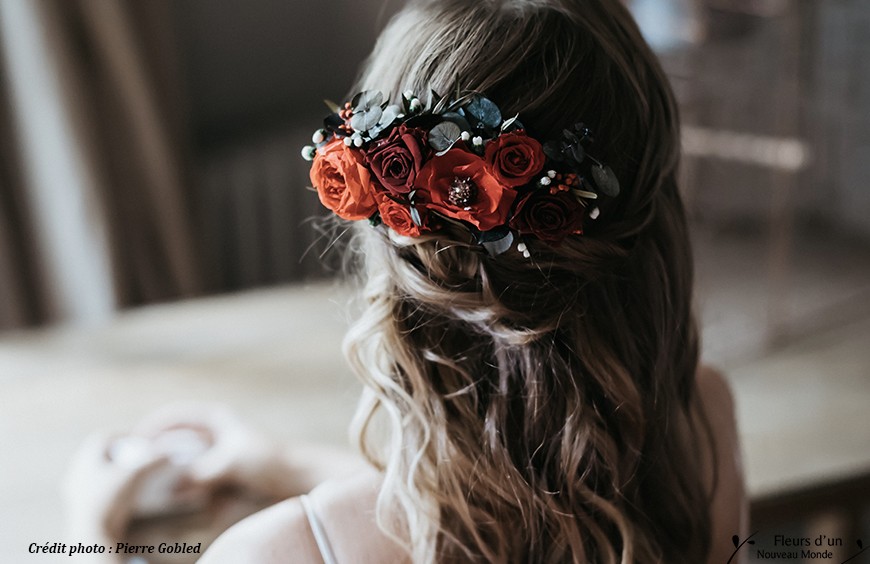 Preserved flowers, the essential beauty accessory for brides 2019
Posted by  Dec 20, 2018  Blog  0 Comments
As you may have noticed, flowers are an ultra trendy beauty accessory for brides in 2018. In view of the podiums of New York's Bridal Week, this craze is not running out of steam, quite the contrary, and flowers in hair will probably be the ESSENTIAL beauty detail of the 2019 wedding season.
Preserved flowers are the ideal solution to gently slide real flowers in your hair without risking seeing them wither. The stabilization process consists of replacing the sap of freshly cut plants with a glycerin-based solution. Thanks to this technique, the flowers thus retain their ephemeral beauty for years. 
Ayana, a pioneer in the work of preserved flowers, was the first creator to introduce this innovative process into the world of wedding. For more than fifteen years, bouquets, wreaths, buttonholes, jewelry, decorations ... made entirely of preserved flowers have brought a new concept with delicacy and freshness that lasts over time to the delight of brides. Mastering this technique perfectly, Ayana designs fully customizable creations with an exclusive packaging system allowing these delicate compositions to be shipped worldwide.
For the past year or two, there has been a democratization of this concept, and an increasing number of brides are now showing a proven interest in these timeless flowers. Preserved flowers offer many advantages in the world of wedding and provide the ideal flower solution for different types of brides:
The bride who wants to enjoy her flowered accessories all day long without the risk of seeing them wilt (all the more if this beautiful day takes place in the middle of summer);
The bride who knows more or less precisely the flower arrangements she would like and who does not want a nasty surprise on the morning of her wedding;
The bride who marries abroad or far from her home and who is unable to easily coordinate the delivery of her flowers;
The bride who wants to keep the accessories of her wedding as a wonderful family memory.
Ayana is complimented for her professionalism and creativity by hundreds of brides each year through her creators Emilie and Sandy, both holders of the FRENCH ARTISAN diploma, a pledge of seriousness and sustainability. Enthusiastic and passionate, these two designers are particularly attentive to satisfying the requests of each bride wishing to be the most beautiful in their role as queen of a day. This year again, Ayana is innovating and expanding its choice of preserved flowers and foliage to fill the 2019 brides conquered by the countless advantages of stabilized.