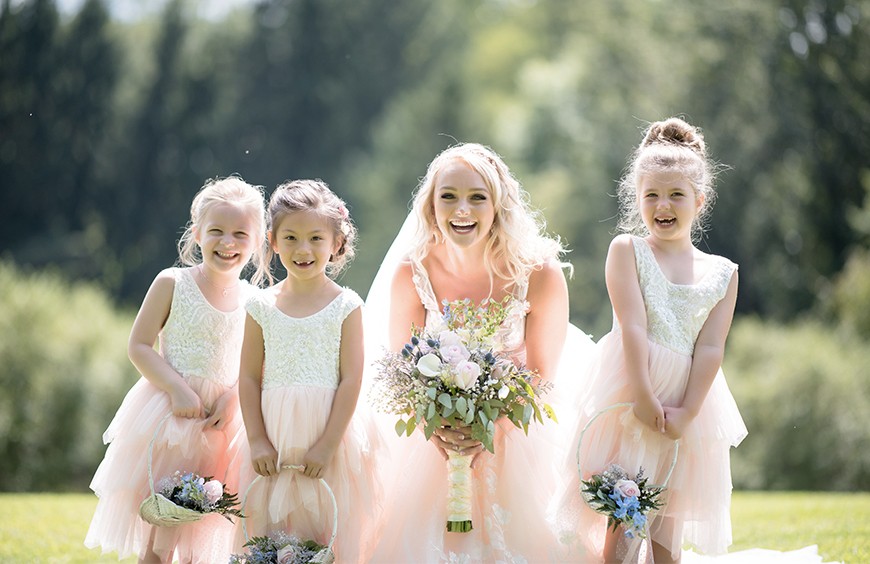 The Secrets of a Kid-Friendly Wedding
Posted by  Dec 20, 2018  Blog  0 Comments
Do you think children are an integral part of the holiday, and can't imagine your wedding without them? But for the past few weeks you have been having horrible nightmares in which this joyful bunch of rascals has unrestrained fun by jeopardizing your superb decoration. Do not panic, but it is time to think about how to channel all this little world for the comfort and tranquility of all.
Take an exact account of the number of children by age group: Divide them into three or four categories: Babies and toddlers requiring continuous monitoring; small autonomous children to be channeled; older children who will be happy to participate in activities within a group.
Determine the budget you want to allocate: Your budgetary constraints will determine the means implemented and the level of involvement requested from parents.
Study the possibilities to organize a dedicated place for them: The ideal would be to have an outdoor space to organize games and several rooms available, a little away from the noise of the party to arrange a dormitory and a room for them. board games and meals for toddlers. You can also consider renting one or more barnums to install in the park to be furnished with carpets, cushions, mattresses ...
Prepare games to occupy the different groups: List the games that you own or can be loaned (outdoor or board games), those that you can make (games of all things, angling ... or rent (inflatable) .
Imagine activities adapted to your wedding theme: A treasure hunt for the youngest, a photo contest with polaroids for the older ones, creative workshops ... You can also, depending on your budget, call on a magician that will delight young and old.
Think of the small gifts: surprise pouch distributed after the ceremony with drink, cakes, candies for their little appetites; Pinata to keep them occupied during the cocktail reception; Game book on the table to make them wait between dishes (to make yourself on the theme of your wedding); Little costumes to take funny pictures ...
Organize the schedule:
For babies, plan a nanny for 2 or 3 children maximum if they are fully cared for. But you can let the parents take care of their babies during the day and plan a dormitory with a nanny to watch them in the evening. Parents will be grateful to be able to enjoy their evening and all the attentions you will be able to show (changing mat, cotton and cleaning solution, microwave, playpen and high chair ...).
For the group of young children, plan a minimum of 2 nannies (1 to supervise the other children when it will be necessary to accompany one to the toilet) and more depending on the number of children. This group being the most difficult to channel, it will be advisable to orchestrate their timetable perfectly: Ceremony, photo session, activities during the cocktail reception, special dinner for them, games, evening, rest.
For older children, an animator will usually be sufficient. Activities may be planned during the cocktail reception and aperitif. The ice thus being broken, the children can dine together, the evening can then be shared between the dance floor and a quiet corner with books and DVDs for the most tired.
A thoughtful and rigorous organization will delight parents and leave children with lasting memories.