Are you looking for a fun activity for a bachelorette party ?
In our DIY workshops, you can create all together the floral accessories or the wedding decoration in dried or preserved flowers: a superb girly afternoon in perspective, which will make all the brides happy!
You love nature, creative hobbies and moments of sharing with your friends?
For a fun day with the girls, get together for a creative activity. A beautiful moment of relaxation and discovery and the pride of leaving with a bell, a wall crown, a plant painting, a jewel.… Your unique and personal creation!
You want to distract your guests during a country party, baby shower, wedding, baptism, birthday… ?
Our participatory workshops will bring a note of freshness and poetry to your event. A zen and friendly break and above all the opportunity for everyone to discover the wonderful world of flowers in a different way.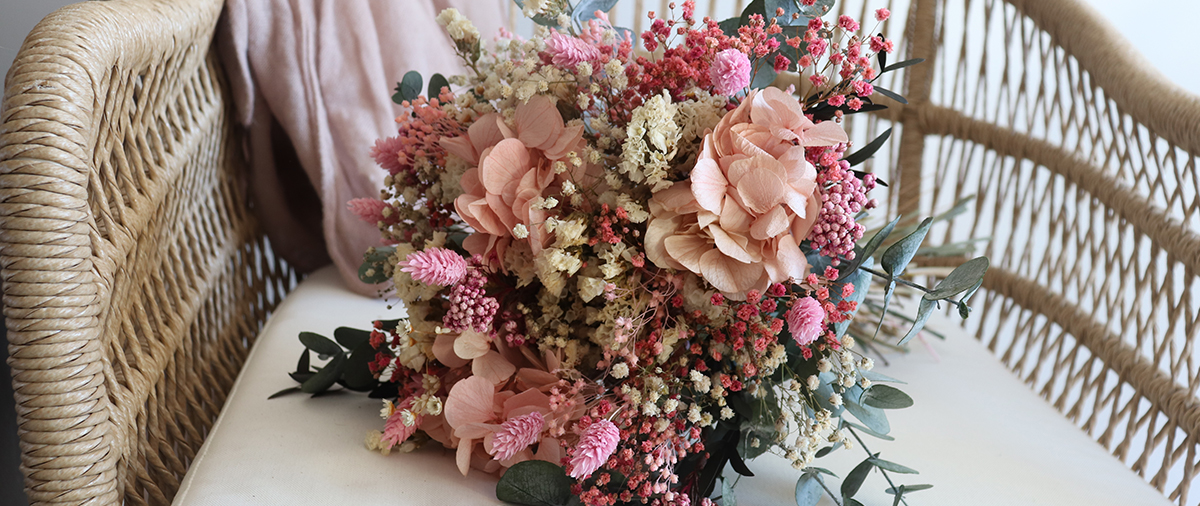 Beginner or experienced, we offer fully adaptable flower-filled workshops, on the theme of your choice. A creative journey, filled with poetry in the magical land of sustainable flowers. A delicious moment to share in a festive and friendly atmosphere. We come to your home or to the location of your event to lead the chosen workshop. Contact us to tell us about your project and we will submit workshop proposals to you. Free quote on request.
Focus on our services
1 - A fully adaptable workshop according to your wishes
2 - The supply of flowers and materials necessary for the realization of the chosen workshop
3 - Technical training adapted to each audience on dried and preserved flowers
4 - A workshop of about 2 hours for a fun moment to share
5 - A trip to your home or to the place of your event for a friendly and festive atmosphere
6 - Floral creations to take away in dried and preserved flowers that keep for many years
7 - Unforgettable memories with photos sent by email